Gas Boiler Service - only €99
Looking for a quick and affordable gas boiler service?
We are Dublin's Leading Heating and Plumbing Company​
We Service Wall Mounted Or Floor Standing Gas Boilers Regardless Of Manufacturer Or Type
Boiler Due For Servicing?
Gas boiler service is only €99 Now. Dublin Gas Works provides gas boiler service in Dublin and nearby areas.  At Dublin Gasworks we have very experienced and professional RGII registered technicians and plumbers who can handle all the heating-related problems and service and maintain your boiler as per the manufactures requirements. Dublin Gasworks are caring for boilers in Ireland for the last four decades. We consistently make sure to deliver top-notch customer service and remain committed to our clients. Our technicians will service the boiler and do the safety check and issue you the RGII certificate on the sport, we also send you the detailed job report that will include the status of the boiler and recommendations. Dublin gas works also help customers to choose the best boiler for clients' home and provide all the assistance during the service, repair, and replacement.
We are happy to help at any time. Feel free to contact us at 014298666 or email info@dublingaswork.com
Gas Boiler Service - All you need to know
The worst thing that can happen on a cold day is for your boiler to give up and the central heating to fail. But you can prevent this from happening by conducting an annual boiler service.
What is an annual boiler service?

Annual gas boiler service is the periodic maintenance that needs to be done in certain intervals to keep the boiler in perfect working condition. All types of boilers require periodic maintenance and this should be performed by an RGII registered technician, this is a requirement by all the manufacturers to avail of the manufacturer's warranty. During the service, our RGII registered technician will follow a comprehensive boiler service checklist to make sure everything in the boiler is up to standards and working well.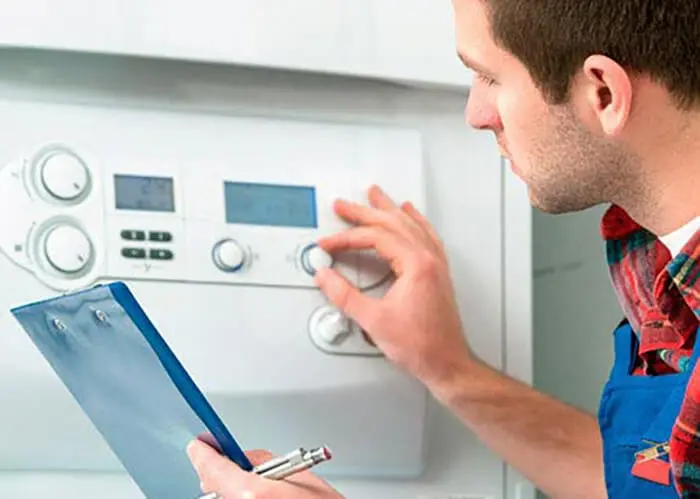 Our Gas Boiler Service Checklist
Check the condition of and permitted location of the appliance and its electrical controls.
Inspect flue integrity, suitability, condition, size, route, functionality, terminal, cowl, guard and installation standard.
Check ventilation as per manufacturer's instructions & air intake analyses ensuring correct location, size, type and source.
Conduct electrical safety tests including fuse rating, isolation switch, and polarity, and earth continuity, resistance to earth, short circuit test, and supply voltage.
Check accessibility, functionality and condition of isolating valves.
Inspect and clean fan unit and heat exchanger.
Inspect / clean / adjust main and pilot burners and injectors.
Check and adjust ignition and ionisation electrodes.
Check temperature control and Conduct burner pressure tests.
Adjustment time and temperature controls as required.
Check appliance gas rating and conduct appliance gas safety tests.
Sample flue gas analysis to ensure efficient and safe operation of the appliance.
Complete RGII appliance conformance certificate.
Frequently Asked Questions
Why should I service my boiler in each year?
First, follow the manufacturer's recommended service intervals to maintain the boiler's performance and maintain your warranty eligibility. A yearly boiler service can keep the boiler running at peak efficiency and guard against costly breakdowns. Annul service of the boiler also ensure the efficiency of the boiler and this will reduce the energy consumption and leads to savings in fuel price. The yearly service can reduce the cost of boiler repairs, which are expensive. Service also done to ensure the safety of the home and boiler.
How a gas Central heating system works?
The boiler is the heart of the central heating system and pipework will link it to the radiators. When the boiler is turned on, the heat pump transfers warm water from the boiler to the radiator via the attached piping and repeats the process in the heating system. The heated radiator warms the air and heated air provides heat. The boiler also functions as a water heater, supplying hot water to the house's taps. Because boilers are now getting smarter as well, some heaters will have controls that can be accessed through apps and other smart devices. Regardless of the boiler's fuel source, all boilers require power to conduct these kinds of operations and other internal controls.
How to know my boiler is due for the service?
Call us right away if it has been a year or longer since you last serviced the boiler.
Additionally, if the boiler flame is irregular or yellow, this is another sign that the boiler needs to be serviced. If the boiler is overheating and refilling often, and if there are any obvious stains or smoke marks on the nearby furniture or appliances. Low water pressure or recurrent pilot light failure are also problems. There are certain key indicators that the boiler requires maintenance. You may also check to see whether the radiators heat and cool down quickly when the boiler is turned on and off.
The optimum time to service your boiler is before winter officially begins so that you can be absolutely certain that it will work when the cold weather hits. Additionally, before winter is the perfect time to save money because servicing costs will be lower before the winter and technicians will be on call more frequently.
What are the types of boilers?
Mainly there are three types of boilers and that are; Combi, Heat only and System. The heat only boilers are also known as conventional boilers or regular boilers. Heat only boilers will have a cylinder. Most modern homes will be having a system boilers with an unvented hot water cylinder but sometimes they also have a vented cylinder. Combi boilers are a single unit that generate instant hot water and heating. There are no hot water tanks in combi boiler. Gas is the commonly used fuel for the boilers, there is oil boilers and electric boilers as well. On the contrary all the boilers need electric supply to run other internal mechanisms.
What are the benefits of the boiler maintenance?
Winter is a crucial time for home heating, and if the boiler is maintained, there is minimal possibility of a breakdown on a chilly day. The service is a preparation for the winter. Safety is one of the main benefits of a maintained boiler since a faulty boiler can cause hazardous fires or gas leaks. Carbon monoxide is one of the colorless, odorless gases that might escape from a malfunctioning boiler and can lead to silent death. A boiler that is well-maintained will last longer than one that is not. Annual fuel utilization efficiency will increase with service, therefore the condition of the boiler might affect savings over time. Because all manufacturers prescribe a regular maintenance schedule, A service will also assist in keeping the boiler covered by the guarantee. Additionally, doing so will reduce the possibility of future repairs and increase the heating system's efficiency. According to SEAI servicing the boiler in the summertime can save at least 5% on heating costs later in the year.
If your gas boiler is over 14 years old and not working as efficiently as it should even after service, consider upgrading it to a high-efficiency boiler. We offer Humm finance options to help you upgrade your boiler and split your bills.